The Marionette Returns Home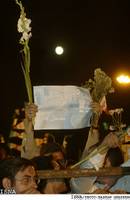 Photo: ISNA (The message on the banner reads: "
Greetings to the messengers of the [Islamic] Revolution
".)
Ahmadinejad returns home to report back to his master that he has successfully taken Iran another step closer to UN sanctions. At Tehran's airport, a small crowd of Sepahis and their families were waiting to greet him. How they want to make Ahmadinejad a Mossadegh! In 1952, Mossadegh went to the UN to defend Iran's right against the British exploitation. He was seen as a symbol of resistance not only by Iranians, but also by other oppressed nations. However, the fact is that Mossadegh had not come to power by cheating. Nor did he have such a suspicisous background as Ahmadinejad does. His cabinet members were not terrorists and torturers either. And he was a 'politician', not a religious preacher.
Ahmadinejad's speech at the UN was just a recitation of ideas postulated by mullahs such as Messbah. Have a look at the latter's book on 'Mahdaviat' and you will find this by yourself. As a matter of fact, Ahmadinejads' speech had two parts: the first one which was on ideas of justice and Imam Zaman (Shia's Messiah) came from Messbah. The second part on nuclear energy was from Shariatmadari (head of Kayhan newspaper and Khamenei's close fellow).
Besides, Ahmadinejad did not meet with European heads of state. Why? Because, Larijani advised him not to do so as he was certain that Ahmadinejad was not capable of negotiating with such political figures as Blair and de Villepin.
Mossadegh was the messenger for Iranian nation at the UN, whereas Ahmadinejad was nothing but a messenger for the regime. He did his job very well.